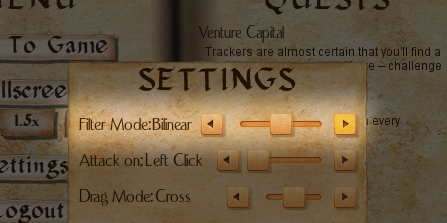 Good morrow, loyal fans! We've just patched in a slider option for scale filtering if you want to adjust your fullscreen visual experience. You can access it via the in-game menu under "Settings" with all the other arcane sliders.
For Steam users, we've added some error tracking and optimised the code around some really suspicious achievement progress behaviour, particularly around the likes of Masochism. If it still doesn't work as intended, we'll be well-armed to deal with further problems.
There's not much to say aside from these quick info bits, but we'll drop in a friendly reminder that progress on the Android and Linux versions is still being made. Bits and pieces of our code changes will occasionally leak through to (and benefit) the PC crowd, much as it has now with our current focus on rendering and optimisation.
Most of the crew is off to GDC for the next few weeks, but we'll be doing our best to increase visibility with our community in the meantime.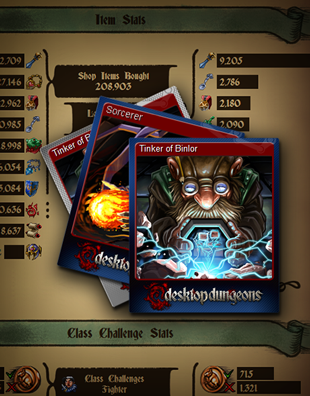 This week we have a double header for you!
We've finally built a page that houses all the stats we've been collecting. You can now see which enemies are killed the most, which dungeons have the most losses, and which gods give out the most boons.
Draw you own conclusions and share them on the forum.
And hey, Steam users: we've also released our community package of tradeable Desktop Dungeons goodies to the big bad world. For your digital swapmeeting pleasure, our artists have produced six game cards, seven profile backgrounds, five emoticons and a partridge in a pear tree.
Spread the word and start collecting!
Desktop Dungeons Stats
Our Steam Page
The Desktop Dungeons Community Hub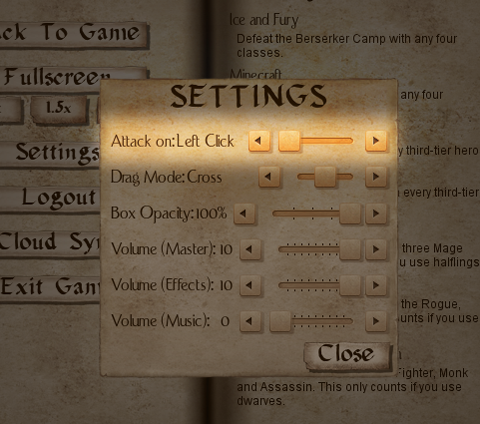 Yerp, it's an update!
While we work on getting Desktop Dungeons moved to mobile platforms and the like, we've been paying some attention to control schemes and selection-related weirdnesses. The bugfixes that come with this patch mostly concern themselves with some of the stranger cases that have cropped up, as well as more common interface problems associated with particular playstyles.
One of the additions we've made is the option to switch the default behaviours of the left and right mouse buttons on enemies, meaning that cautious players can opt to have their default movement button select an enemy instead of attacking it, while those more comfortable with classic DD controls can stay just as they are. Such grand choice and agency!
We hope that trackpad users and single-button Mac players in particular will benefit from this change, offering them unprecedented levels of … mouse flexibility? We don't really know how to dress that up grandly, but it's a good thing. Now for a quick changelog: Read the rest of this entry »
Hail, loyal Desktop Dungeons supporters! This week, we made a big push to eliminate the final instabilities in some of the save / load areas of the game. As we prepare to go into semi-sorta-hibernation over the festive season, take comfort in the fact that your item and data loss issues will be a thing of the past.
Players encountering trouble with lockers can take heart. People with missing run data can earn a sense of closure. And there will be cheering in the streets over the preservation of Kingdom progress data!
Several logic bugs that caused saved game history to desync in weird ways when playing from different IPs and devices are a thing of the past. We've also brought an end to a few other issues, big and small, that came across our field of attention.
Thanks for the patience, and we hope y'all continue enjoying the game!
Savour the year's end if you're into that sorta celebration. Don't worry — even if we're quietish for a bit, we'll still be around to make sure that nothing explodes (unless intended through the fully sanctioned use of BURNDAYRAZ). Here's the list of most recent changes: Read the rest of this entry »
This week's update addresses some important data saving issues reported over the past week, as well as some minor interface weirdnesses and mechanical exploits / disadvantages (we expect to hear a mixed chorus of "hooray" and "awww" about that).
Desktop Dungeons has been going along the expected review circuit in recent weeks and we decided to pick out a few of the more interesting writeups out there. If you want to point your friends (and enemies) at some professional opinions or just check out some creative wordsmithing about DD, check these out. Links and changelog after the jump: Read the rest of this entry »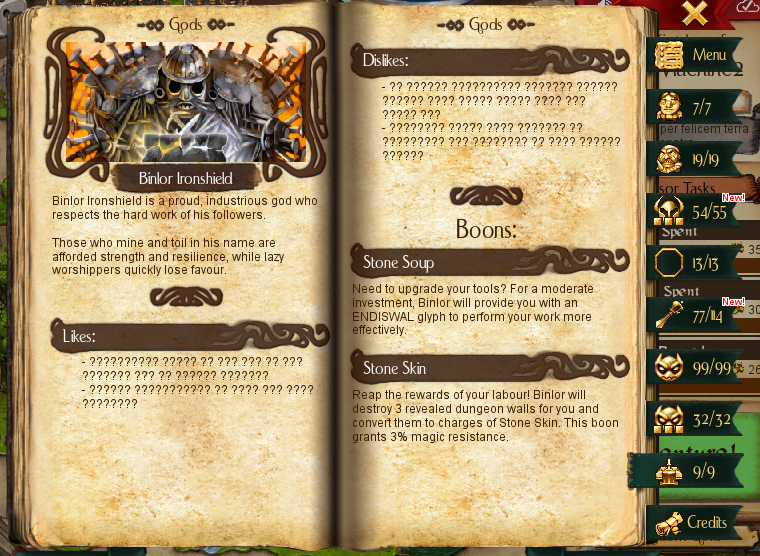 Howdy! This week's update provides an important stability patch for people playing the game across multiple systems, IPs and what-have-you. Weirdnesses and data loss should be non-existent where they've reared their ugly heads before, and the denizens of player Kingdoms can breathe a collective sigh of relief knowing that they won't sporadically vanish and stuff.
We've also nailed that pesky Codex bug related to god discovery and the "NEW!" tag hanging around for an absurdly long time. Man, that one bothered us for a while.
And for badge farmers, we have bad news: PISORF finally has a damage type for consideration. Looks like that's one less cheeky little trick to take advantage of!
There's a few other tweaks here and there to take a look at. If you haven't already, you can have a gander at our first after-action report, then give us a bit of feedback or commentary on the QCF Design forums! Changelog follows: Read the rest of this entry »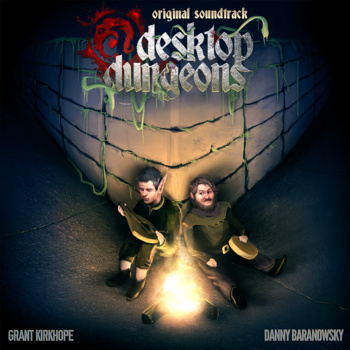 So, we've made it to the other side! The game is out and this is our first non-beta patch for the web player community.
Weekly updates aren't strictly part of our brief anymore, but there's still more for us to put into the online build and the Steam community has been very helpful in providing loads of early-game feedback (don't forget to grab the game on Steam or redeem your key if you haven't done so already).
What may interest most of you is the addition of streamed audio from the powerhouse duo of Danny Baranowsky and Grant Kirkhope, giving Desktop Dungeons a fully orchestral soundtrack to finish the experience with a little bit of aural magic.
The soundtrack is too big to load up all in one go (and we're sensitive to people connecting wirelessly from the Antarctic or whatever), so we're experimenting with loading up individual tracks on the fly — if there's a delay in hearing any sound, it'll be due to stuff caching in the background. Let us know if there's any issues, and enjoy the music!
This week's changelog is rather big, due to it being the culmination of several panicked, semi-panicked and almost-entirely-unpanicked build updates made over the course of the week. Have a look through: Read the rest of this entry »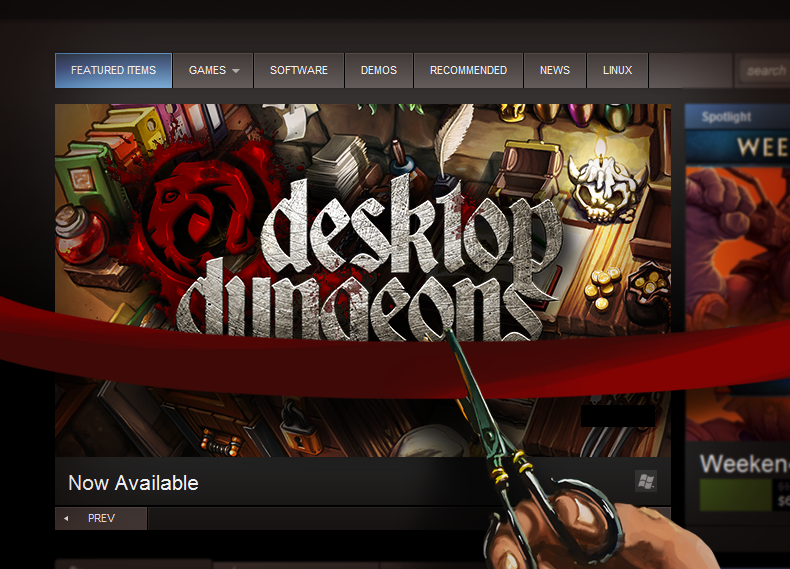 Here at last! The culmination of three years of hard work, game design and goat-slaying has arrived – it's the full release of Desktop Dungeons!
Now with a full soundtrack and several gazillion hours of gameplay, DD is set to blow you away on PC and Mac, available now via our website and Steam. This has been a long time coming, folks. Thanks for all the support, feedback and farm animal anecdotes over the years, it has truly been an unrivalled experience.
If you've bought the Beta version as a pre-order and want access to your complimentary Desktop Dungeons Steam key, get it over here. You'll be able to link your Steam account to your existing game profile and continue right from where you left off.
Enjoy, folks. We hope this game will be one truly baaaaa-dass experience for ya.
Regards,
The Desktop Dungeons Team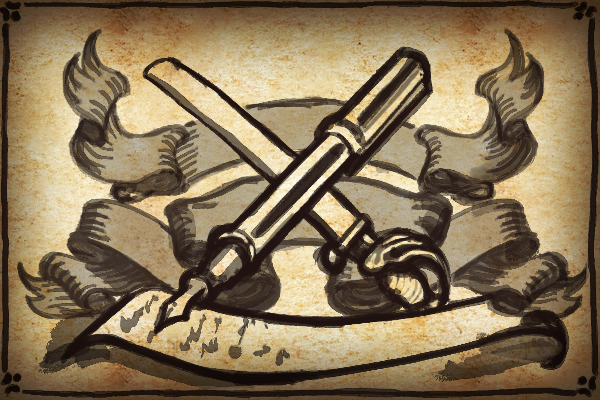 It's been a long and emotional journey, folks.
This is the final Desktop Dungeons Beta Update. As we scramble to add the last few features and bugfixes for the impending Steam launch and our release of the official "full" version, we'd like to thank all of our beta supporters, pre-orderers and faithful problem-spotters for the enthusiasm, hard work and commitment to improvement that has not at all waned in all the time that we've been developing openly on this product.
That's 128 beta updates, folks. A nice binary kind of number and a fitting version update to wrap things up with!
Our message is brief: there's a heaaaaavy weekend ahead of us for a whole bunch of reasons and the excitement in the office is palpable (even if one of our number is currently over at MineCon)! If anything breaks in the next few days, we'll be paying careful attention — so let us know. Gaze below for one last beta changelog and give yourselves a pat on the back for all the valuable feedback you've given us over the years: Read the rest of this entry »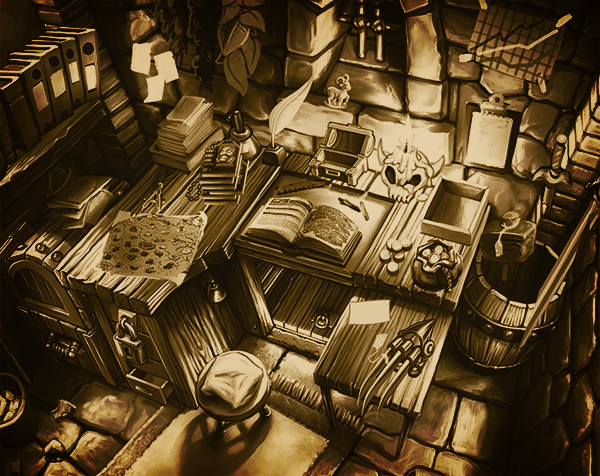 Yep, we're finally loosening our tongues about the long-awaited Desktop Dungeons Steam launch! Your favourite fix of homicidal goats, merciless dungeons and thinky roguelike puzzling will hit the service on 7 November for PC and Mac.
You have one last week to get in on the pre-order system for 10% off and immediate access to the almost-no-longer-beta version. No matter when you purchase your copy, you will be entitled to a free Steam key on full release, and we'll be working on the iPhone / Android / Linux conversions shortly thereafter. So, tell your friends! Tell your family! Tell your more technologically-inclined pets!
Let everyone know that we're here to change their coffee breaks forever. And tell them to buy the game. Their loyal Kingdom subjects will thank them for it.
PS. If you happen to be in or around America, make your way to MineCon in Orlando, Florida to check out Desktop Dungeons before it goes public! Yep, we're totally gonna have a presence there — just look out for goats and a guy with an epically braided beard.