The Desktop Dungeons: Rewind Daily Demo is now live on Steam, allowing you to play a brand new procedurally generated challenge each day! You'll be able to catch glimpses of a lot of the content in the full game, if you keep playing long enough. If you find the Daily Dungeons fun, consider wishlisting Desktop Dungeons: Rewind while you're at it to be notified as soon as the updated game releases!
Greetings Desktop Dungeons players! The rumors were true! The ones about a remastered edition, not the ones about the self-aware fungus on uh nevermind… Back to our announcement. Desktop Dungeons: Rewind is soon to be released so you'll be able to explore, slay and scheme through the game with gloriously updated graphics.
The goal with Desktop Dungeons: Rewind is to bring a game we love to modern devices and modern audiences. For a long time we've felt that we've under-served players with the resolution choices we made for Desktop Dungeons back in 2011 (!!) and have had to stick with since. This is the perfect opportunity for us to address that, while adding new features to the game to make it smoother and more rewarding to play.
All your old saves will continue to work in Desktop Dungeons: Rewind, but we hope returning players dive into the game from the start, just to experience it with fresh eyes. It's been a journey coming back to a game we love this much and doing it justice, we hope you all appreciate the result as much as we've enjoyed making it!
Greetings diligent Kingdom Administrators!
Some of you are far too diligent. Far, far too diligent… We're getting reports that few puzzle remain unsolved, rainbow borders surround dungeons galore and even Goatpeople are welcome in taverns under your watchful reign(s). This simply will not do! Which is why there's a dedicated group of incensed Desktop Dungeons fans hard at work on a mod for the game to add new challenges, new classes, new dungeons and new puzzles for you.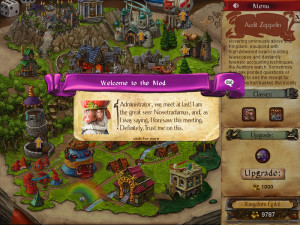 The Extreme Edition has just received an update that adds more to the Eastern regions of your Kingdoms, as well as bringing the mod up to the current version of the game (so no more switching to legacy mode via Steam). All told, this update adds:
4 new classes to play, with 6 new class challenges.
More than 25 new items to discover.
11 new dungeons spread out over 2 quests.
8 new ways monsters will mess with you.
And additional secrets that they didn't tell me about and I haven't found yet…
Seriously, this mod is an amazing project by loving Desktop Dungeons fans that are doing amazing things and sticking true to the game we loved developing. It's a complete blast playing new classes and challenges in a game we otherwise know inside out and we hope you'll enjoy this update as much as we have. The modders have even found ways to add new art to the game, which blows our minds, we didn't think that was possible.
If you've enjoyed Desktop Dungeons and want more of it, download the mod and follow the installation instructions. And please, backup your saves!
Desktop Dungeons is in the Humble Mobile Bundle 17 right now! Simply pay above $6 to add Desktop Dungeons and Grim Fandango Remastered to your haul.
Please note that some players have experienced crashes if the game doesn't have write access to your storage. This is easily solved by granting write access to the Desktop Dungeons app.
We get a lot of complaints about Desktop Dungeons: It's too difficult, I can't stop playing, What's with the goats, etc. One thing people seem to be glad of is that they're able to escape the game by moving away from their computers. This upsets us immensely! To rectify this huge oversight, we're releasing Desktop Dungeons for both Android tablets and iPad on May 28th, 2015. It'll set you back a mere $10.

We were initially quite worried about getting the game onto Android (there are times that being an African studio really makes indie life difficult) but thanks to our friends at Finji, we're able to bring the game to Android at the same time as we publish it on iOS. So, Desktop Dungeons is getting a simultaneous release on those two platforms.
We're sure some people are going to be curious about the $10 price. It's actually really simple: We don't think that Desktop Dungeons would work as a F2P game, not without huge changes that we feel would make the game experience worse as a whole. We're focused on bringing the same game from PC to tablets, trying to rip out and rewire the guts of the gameplay to allow the game to nickel and dime people to death just doesn't feel good. So, $10 it is. We feel like that's a good deal for a game with as much replay value as Desktop Dungeons.
The Cloud Sync saving system that grew up over the beta and keeps the game up to date no matter where you play it has been extended to include iOS and Android as well. All your current Kingdoms will be playable on any device that's online and logged in to DesktopDungeons.net. This was actually a significant amount of work over the last couple of months, but I'm sure we'll blog about that later; We feel that more developers should offer this kind of portability.
Desktop Dungeons on tablets will contain all of the extra Enhanced Edition content, so you'll be able to play the Chemist and Rat Monarch right off the bat. Each mobile platform does have different Daily Dungeon seeds and leaderboards though, so you'll be able to do a maximum of three different dailies if you feel like it. There's no Goatperson DLC planned for the tablet versions as yet, but if you log in with a DD.net account that has the DLC you'll be able to play the Goatperson and the triple quests as much as you'd like.
We're super excited to be releasing Desktop Dungeons on mobile. This has been the number one request that we've received since we started working on the game and it's been a long road to get to this point. Next week it'll finally be real. See you on the 28th!
Be sure to check out our presskit for more information on the game, screenshots and trailers like the one above.
We're very happy to announce the Enhanced Edition of Desktop Dungeons. If you've been visiting our forums, you might have gathered quite a lot of what this entails, but we thought it was time to actually collect it all in one place and clear up some details: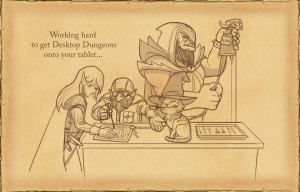 As you already know, we've been working hard to bring Desktop Dungeons to mobile platforms. While we've been streamlining the interface and reworking chunks of the game, we've also added things, because, well… because we couldn't really not, there just too many interesting ideas to explore with this game. This has culminated in the expansion that we've called Enhanced Edition.
The Enhanced Edition is a free expansion to Desktop Dungeons that adds new classes that create fascinating interactions and quests that push your thinking in how to deal with them. It comes with parts of the streamlined interface changes that make understanding the game a little easier. It has also had a pretty major overhaul as far as optimization goes, but that is distinctly less sexy to talk about, let's move on. There's a new building that houses…
Daily Challenges
Your Kingdom is being audited, but in order to check the correct boxes and fill what seems to be an infinite void of incomplete records, you have to recreate lost adventure reports as part of the Daily Expedition Re-enactment Program, or DERP, every day a new DERP. You'll be able to pit yourself against your friends with this seeded adventure each day. The daily expedition preparation choices also allow you to play with combinations that you might not actually be able to have in the game and select multiple preparations from the same building. These auditors are all about the hypothetical, so it's time to explore your ideal power combos! Daily expeditions will reset at midnight, GMT.
This seed will be different on each of the mobile platforms, so while you can only play the daily once per day on PC(inc. Mac and Linux) you'll be able to play a second hypothetical re-enactment on your iPad and then a third on your Android tablet. Each with their own leaderboards.
Let's talk Mobile
The mobile version is a full one-to-one port of the game with a spiffy new interface for touch devices. All of your cloud saved kingdoms (built in if you log into your Desktop Dungeons account) will synchronize across the various platforms. So you won't even lose your kingdom progress when you leave your PC and whip out your iPad for a quick run of Ick Swamp whilst on the bus.
When? WHEN?!
The Enhanced Edition will roll out on Steam, GOG and Humble on the 20th of April, with the mobile release following soon after that.
Desktop Dungeons will be part of the first Indie MEGABOOTH at Gamescom this year! So if you're in the area, come say: "Hi!" or "This game is the best game ever!" (really loudly in front of member of the press please) or "I hate you guys and this game's too hard!" (also loudly in front of press, pretty please) or any one of a number of phrases you might come up with yourself. We're really excited to be exhibiting the game in Europe for a change so that we can practice our German.
We promise not to bring any goats… Not even our favorite travel-sized portable defense-billy.
We're happy to announce that yet more people are no longer safe from the time-eating clutches of Desktop Dungeons, as you can now pick the game up at GoG.com – there's even a release week 33% off sale to sweeten your slide into goat-themed dungeon clickery. Enjoy!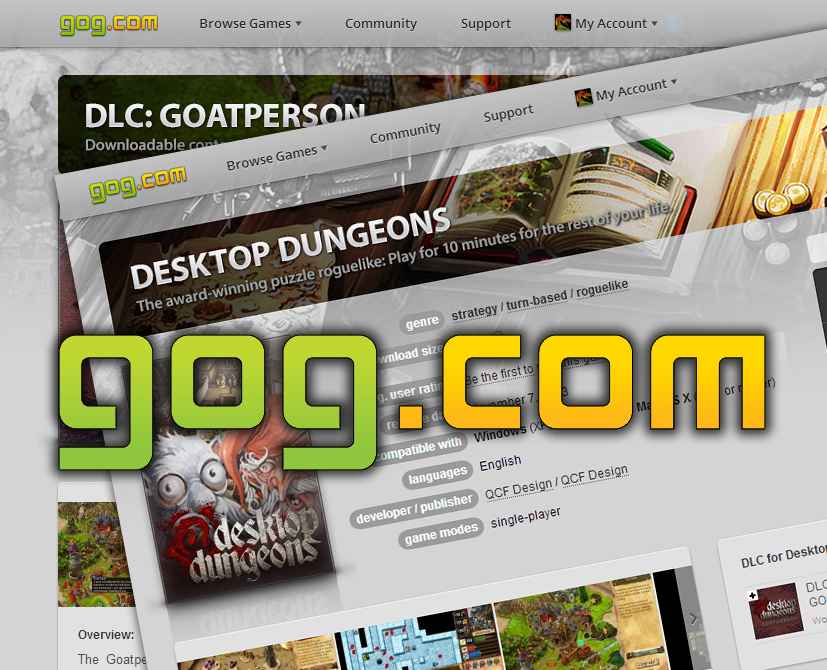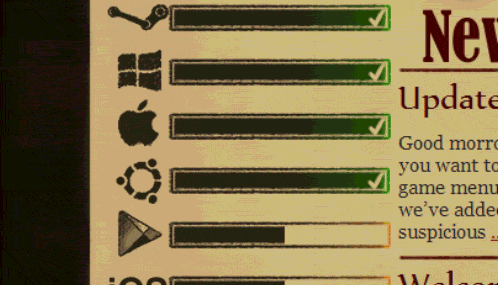 That's right, Desktop Dungeons is now available for Linux! Tell your friends that don't have the game yet that their excuses are rapidly dwindling… Especially because Desktop Dungeons is part of Midweek Madness on Steam right now for 50% off!
Like goats, Linux comes in many flavors. Also like goats, sometimes Linux can be recalcitrant and kill you in one hit… If you have any problems with the game, let us know and we'll fix it ASAP. And finally, if anyone's got a Steam box, we'd love to know how it plays!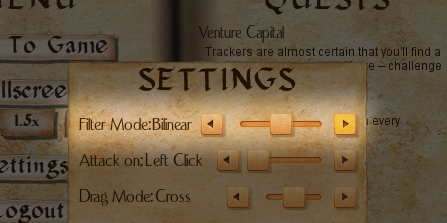 Good morrow, loyal fans! We've just patched in a slider option for scale filtering if you want to adjust your fullscreen visual experience. You can access it via the in-game menu under "Settings" with all the other arcane sliders.
For Steam users, we've added some error tracking and optimised the code around some really suspicious achievement progress behaviour, particularly around the likes of Masochism. If it still doesn't work as intended, we'll be well-armed to deal with further problems.
There's not much to say aside from these quick info bits, but we'll drop in a friendly reminder that progress on the Android and Linux versions is still being made. Bits and pieces of our code changes will occasionally leak through to (and benefit) the PC crowd, much as it has now with our current focus on rendering and optimisation.
Most of the crew is off to GDC for the next few weeks, but we'll be doing our best to increase visibility with our community in the meantime.