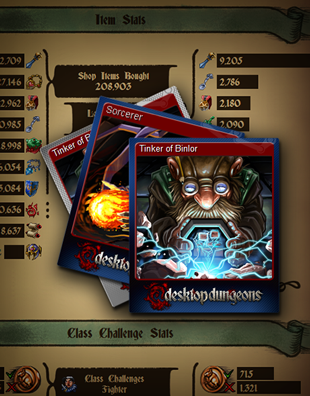 This week we have a double header for you!
We've finally built a page that houses all the stats we've been collecting. You can now see which enemies are killed the most, which dungeons have the most losses, and which gods give out the most boons.
Draw you own conclusions and share them on the forum.
And hey, Steam users: we've also released our community package of tradeable Desktop Dungeons goodies to the big bad world. For your digital swapmeeting pleasure, our artists have produced six game cards, seven profile backgrounds, five emoticons and a partridge in a pear tree.
Spread the word and start collecting!
Desktop Dungeons Stats
Our Steam Page
The Desktop Dungeons Community Hub