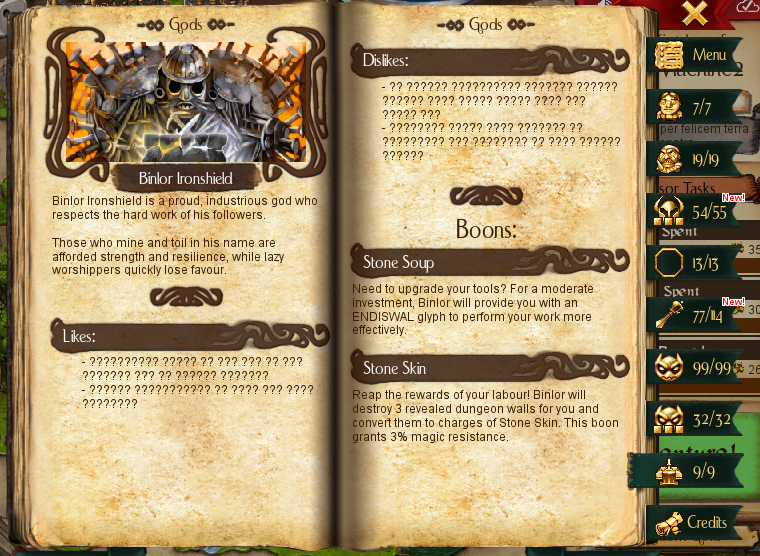 Howdy! This week's update provides an important stability patch for people playing the game across multiple systems, IPs and what-have-you. Weirdnesses and data loss should be non-existent where they've reared their ugly heads before, and the denizens of player Kingdoms can breathe a collective sigh of relief knowing that they won't sporadically vanish and stuff.
We've also nailed that pesky Codex bug related to god discovery and the "NEW!" tag hanging around for an absurdly long time. Man, that one bothered us for a while.
And for badge farmers, we have bad news: PISORF finally has a damage type for consideration. Looks like that's one less cheeky little trick to take advantage of!
There's a few other tweaks here and there to take a look at. If you haven't already, you can have a gander at our first after-action report, then give us a bit of feedback or commentary on the QCF Design forums! Changelog follows:
Fixes:
Soundtrack button correctly works on the OSX version of the Steam build
Goat Glade irregularities fixed
Fixed problem where Kingdom music would stop playing for changed profiles
Tikki Tooki no longer considers zero-damage attacks for piety loss
PISORF attacks now count as physical for Specialist considerations
"Double" creation no longer occurs on the Elf / Dwarf building unlocks
Enlightenment correctly displays in the codex
Fixed the issue that was causing blank codex pages when discovering new god likes/dislikes