(Also coming to iOS and Android. See FAQ below)
The perfect coffee-break game
Fight your way through fantasy dungeons in as little as 10 minutes.
Tightly refined difficulty
Never take a boss kill for granted again! Over time, discover how hundreds of subtle tricks can improve your odds.
Prize-winning awesomeness (13th Annual IGF Awards)
Classic roguelike play re-imagined as a unique single-screen puzzle hybrid … thing. An early adopter of the "roguelike-like" ideal.
6 hours of gameplay? Try 6 billion
Randomly generated dungeons are different every time you play. Build your Kingdom to unlock hordes of new classes, races and challenges.
Play for FREE, right now!
The alpha will be free forever, my lord. If you like it, purchase the full game.
Desktop Dungeons is a quick-play, roguelike-like puzzle game that gives you 10-20 minutes of dungeon-crawling action per serving. Casual players can enjoy endless coffee-break gaming sessions in infinitely random dungeons, while hardcore enthusiasts can unearth the game's subtleties and tackle challenges of unrealistic viciousness. Down all paths lies frequent death, easy accessibility and the urge to play just one more dungeon.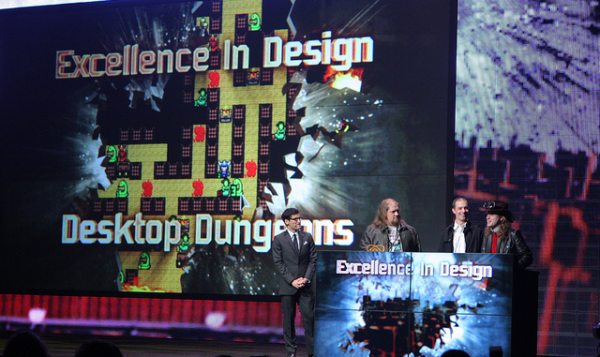 Need to chat with us?
Join our forum, or check out the QCF Design contact info.
We also have a press kit for journalists and other media-mongers!
FAQ:
Q: Will you make an iPhone/Android/BlackBerry/Croissant/Hobo version of the game?
A: Aside from the current PC, Mac and Linux versions (and web playable), we hope to release a version on iPhone and Android. Everything else, no. Unless Unity3D starts supporting baked goods as a platform. Console support is something that's outside of our hands, it depends on platform owners and all that sort of complicated stuff – we just want to get the game out there.
Q: Where can I get a copy of Desktop Dungeons?
A: You can order and play straight from our site. We've also got a fancypants Steam page, a spiffy Humble listing and a tasty spot on GoG.com. Or you can just play the free alpha as much as you want, forever. For. Ever.
Q: What is this Cloud Save thing you've got going?
A: Desktop Dungeons is a lot of game. We hate it almost as much as you do when you lose hours of progress, so we extended the online saving system from the Desktop Dungeons beta to allow everyone to keep their saves on both their personal machines and on our cloud. Log In to your DesktopDungeons.net account in-game and play the same Kingdom at home, at work, on different operating systems and yes, even on the upcoming mobile versions.
Q: How do I create a DesktopDungeons.net account?
If you pre-ordered the game or played in the beta at all, you already have one. If you bought the game on Steam, simply click the Log In button and follow the prompts to create an account. If you bought the game via GoG.com or Humble, please refer to your page there to claim your Cloud Key, then enter that key right here to have a new account registered to your email address.
Q: Is the soundtrack available for sale?
A: Why, yes it is! Support Danny Baranowsky and Grant Kirkhope by purchasing it from our Steam page or their bandcamp site.
Q: Will you fix X, Y or Z in the freeware version?
A: No. Those things are all fixed in the full game. We had to rewrite everything anyway.
Q: This is way too hard, how do I stop dying?!
A: There's a forum! There's a wiki! There are even helpful videos.