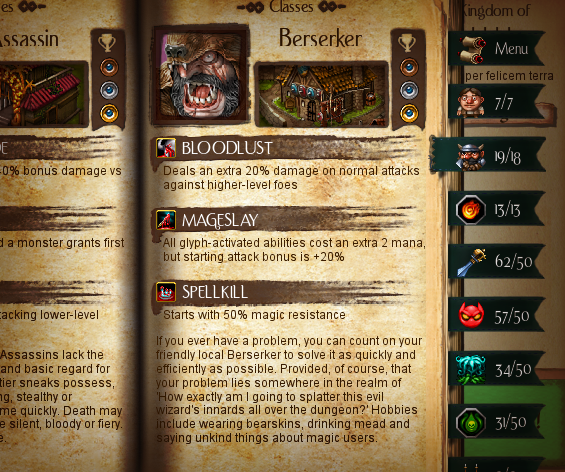 So the game feature that we've been promising / imagining / threatening for a good long time has finally arrived on the doorstep of Desktop Dungeons beta players everywhere!
Shaking off the dust from a whirlwind journey through time and space, the marvellous Codex of collected Desktop Dungeons wisdom gives players a quick reference guide for just about everything in the game – item and boss descriptions, status effect glossaries, god personalities and even lore collections for story junkies.
The Codex doubles as the game's main menu, so to reach it from the dungeon OR Kingdom screen, just hit that button! Any problems can be reported on the forum thread here.
Rubbing shoulders with this new, bookish update is an all-new Special Edition Triple Quest, which begins the (super-difficult) journey towards explaining the existence of the Goatperson, the nature of the pre-Kingdom world and other storyline mysteries that aren't 100% covered in the basic campaign.
It's hardly necessary to expand on how exciting this week's update is, but in case you were still in doubt: we fixed some bugs, too. Yes, bugs! Check out the changelog for all the juiciest details:
Fixes:
Fixed crash bug when exiting a puzzle.
Fixed crash bug when viewing the quest list in the menu.
Added death prediction glow to combat.
Added Special Edition quest rewards to Goat Glade.
Fixed bug preventing future accelerations not being triggered in general animations.
Guarded against edge-case inventory drag states, added tracking.
Fixed event ordering issue that caused food to decrease after inventory was updated.
Fixed Goatperson infinitely looping on level up when there was only 1 altar to choose from.
Player effects detail popup now has a minimum size.
Goatperson: only one boss gold drop should give full trophy value now.
Goatperson trait descriptions updated
God conversion costs fixed
Fixed combat preview for enemies which both poison and corrode