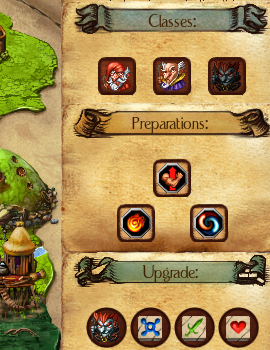 Greetings, beloved Desktop Dungeons supporters! This week introduces some more aesthetic changes to several areas – Kingdom building panels now sport category ribbons, unusable items fade out in the inventory and the god service log actually offers something more than unclickable text and cryptic messages. We very nearly managed to get in a whole whack of new boon / piety graphics for the gods too, but decided that last-minute additions had the potential to cause much, much player suffering over the weekend.
Players who commented on the intensity of the new grid selection box last week will be happy to know that we've added an option to reduce its opacity as much as needed (hell yeah, subtlety!). We've also fixed up a bunch of rather uncomfortable bugs (yep, you can convert again – in both the god and item sense).
We'll have more pretties ready for you next week. In the meantime, consult the following changelog to see if any of our fixes affected your game experience (HINT – they probably have):
Fixes:
Inadvertently converting items after compression/translocation/transmutation is no longer possible.
Added greying-out to item icons in inventory when not usable.
Selected drag mode is now saved.
Fixed a bug where sliders could cause a crash.
Added an Opacity setting for the 'mouse over' border on dungeon tiles.
Reveals on death no longer show boss speeches.
Fixed a bug where menu would retain in-dungeon state even in kingdom.
Fixed a bug where lockering items right after upgrading the guild could cause odd behavior.
Trails now have a maximum time to live.
God conversion works properly again
God piety logs have been revised to include graphics and details
Fixed a bug where clicking on the character could swap selected tab to inventory.