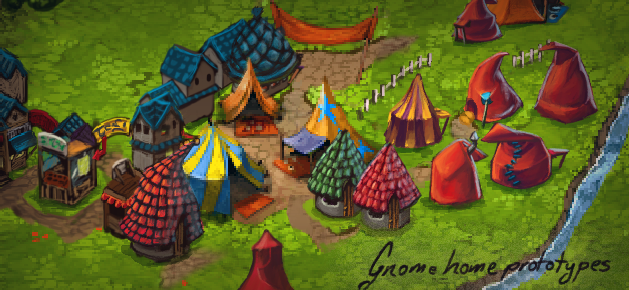 In a radical move, we've adjusted the core focus of Desktop Dungeons to emulate a deep and involved Collectible Hat Simulator (CHS). The concept art you're seeing above is part of the new Hat Overworld View, where you can go through various Hat Portals to the numerous exciting Hat arenas, where you and your friends (or AI opponents!) will be able to engage in tactical Hat-based warfare for title of Ultimate Hatter!
… or maybe that's just the draft art for some new Gnome buildings that will appear when the Kingdom is ready. But we can dream.
This week's update is fairly light, so gloss over it if you're so inclined. Have you discovered the new Naga Cauldron and Mage Fist items yet? The Naga Prince guards them jealously, and mutters something about additional experimentation and feedback required before he "picks one". We've also gone slightly more lax on the Immunity rules, allowing players to actually strike at monsters and once again let minor damage and clever tricks leak through (not posted here, but those who know will know).
With regards to errors, you can now help us troubleshoot more directly in one of two ways:
– For those notorious content load and missing texture errors, post in this handy thread so we can get the problems in one convenient spot and send them over to Unity as a bundle.
– For errors related to unlock ordering, Kingdom quirks and other weird metagame stuff, we'll occasionally be asking users to PM or e-mail us their account / profile names (and uhhh, specifically not your passwords) so that we can pull their save files from the server and test more directly. Legitimate dev IDs on the forum are users Aequitas, Nandrew and dislekcia
Hats hats hats hats hats hats hats hats hats hats hats hats hats hats hats hats hats hats hats hats hats hats hats hats hats hats hats hats hats hats hats hats hats hats hats hats. And with that, changelog follows:
Current Fixes:
Colors on dungeon buttons fixed.
Text color on disabled buttons fixed.
Toast panel order fixed.
Immunities no longer prevent attacking.
Fixed problem with first-tier god unlocking
Fighter Gold is easier
Re-worded / fixed some ingame descriptions
Encouragements only begin appearing after tutorials.