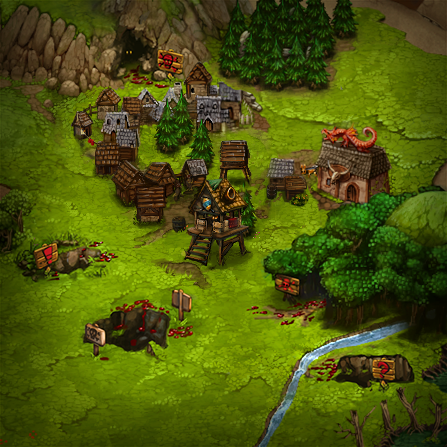 Here's a reassuring screenshot of stuff we're building for that all-new visual Kingdom you've been waiting for since the beginning of the beta, with a focus on what your surroundings may look like in the early game. Yeah, we know, it's been a while in the making! We'd also like to offer some more immediate reassurance concerning the current woes with Chrome — we've contacted the folks over at Unity and they're doing their best to help us troubleshoot the problems we've been having with that browser.
While we're dealing with these issues, we'd like to once again remind players to temporarily switch over to something like Firefox if they need their Desktop Dungeons fix right now. Sorry that we can't immediately offer something better, but we're working on the alternatives now.
This week, you'll probably see a bunch of funny extra effects icons on characters and some of the gods: this is part of the standardisation procedure that a few game elements are undergoing to make them more compatible with the Codex (most of our work recently has been about lists and tables and fairly tedious organisation / refactoring stuff). We've also got the class challenges up and running again after last week's unfortunate hiccup.
Thanks again for the patience and support concerning the recent problems we've been having! Needless to say, this is a quirk of the beta process and not the final product. Very minor changelog this week for front-end stuff: Fixes:
Fixed crash when clicking on class challenge buttons
Mouse clicks initiated on a grid block are now invalidated if the mouse leaves that grid block.
Glenrick portrait adjusted