We're very happy to announce the Enhanced Edition of Desktop Dungeons. If you've been visiting our forums, you might have gathered quite a lot of what this entails, but we thought it was time to actually collect it all in one place and clear up some details: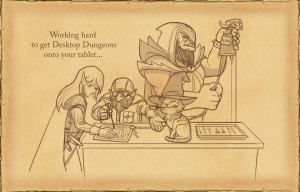 As you already know, we've been working hard to bring Desktop Dungeons to mobile platforms. While we've been streamlining the interface and reworking chunks of the game, we've also added things, because, well… because we couldn't really not, there just too many interesting ideas to explore with this game. This has culminated in the expansion that we've called Enhanced Edition.
The Enhanced Edition is a free expansion to Desktop Dungeons that adds new classes that create fascinating interactions and quests that push your thinking in how to deal with them. It comes with parts of the streamlined interface changes that make understanding the game a little easier. It has also had a pretty major overhaul as far as optimization goes, but that is distinctly less sexy to talk about, let's move on. There's a new building that houses…
Daily Challenges
Your Kingdom is being audited, but in order to check the correct boxes and fill what seems to be an infinite void of incomplete records, you have to recreate lost adventure reports as part of the Daily Expedition Re-enactment Program, or DERP, every day a new DERP. You'll be able to pit yourself against your friends with this seeded adventure each day. The daily expedition preparation choices also allow you to play with combinations that you might not actually be able to have in the game and select multiple preparations from the same building. These auditors are all about the hypothetical, so it's time to explore your ideal power combos! Daily expeditions will reset at midnight, GMT.
This seed will be different on each of the mobile platforms, so while you can only play the daily once per day on PC(inc. Mac and Linux) you'll be able to play a second hypothetical re-enactment on your iPad and then a third on your Android tablet. Each with their own leaderboards.
Let's talk Mobile
The mobile version is a full one-to-one port of the game with a spiffy new interface for touch devices. All of your cloud saved kingdoms (built in if you log into your Desktop Dungeons account) will synchronize across the various platforms. So you won't even lose your kingdom progress when you leave your PC and whip out your iPad for a quick run of Ick Swamp whilst on the bus.
When? WHEN?!
The Enhanced Edition will roll out on Steam, GOG and Humble on the 20th of April, with the mobile release following soon after that.