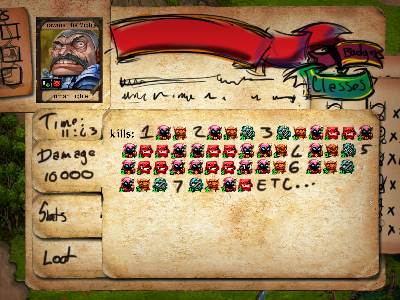 So, about 90% of the work done this week is unappreciable on the front end, which leaves us in an awesome situation where we either have to (a) post about the stuff that you will notice (cue crickets) or (b) post about stuff that you'll have no hope of discovering in this week's update.
We're opting for the latter with a little reminder about the upcoming Desktop Dungeons Codex. Although such a project will never be quite as exhaustive and flavourful as a community-driven wiki, we're putting serious thought into compiling all of DD's little rules, environments and creatures into a single, concise, easily-accessible location to replace the (admittedly dull) main menu that the game has going for it right now.
In a few deft keystrokes, you'll discover everything you need to know about gods, boss types, character effects and items … along with several dozen subcategories that we're probably in danger of missing completely without some helpful reminders and player feedback.
Check the forum thread for this week's update and add your voice to the discussion. What would you like to see in the upcoming Codex?
Here's a quick little changelog for your perusal. This week consisted of a sharp focus on some annoying crash-bugs and various Gaan-Telet weirdnesses (hopefully resolved by now!) as well as a few more Exclusive Edition shout-out dungeons. Log follows:
Fixes:
Fixed more Gaan-Telet crash errors
Odd altar spawning in Gaan-Telet fixed
Fixed various typos
Monsters no longer spawn on staircase entrances in Gaan-Telet's bottom floor
New subdungeons
Baaadlands, Vince's and Thousand Cuts individually disappear
Balanced Dagger has balanced gold cost
The Avatar in Demonic Library won't spawn plants across dungeon levels
Gaan-Telet Hard victories should count normally again
Dungeon badge/class info no longer cycles when mouse is over dungeon select button.
Screen flash should no longer be visible on loading screen.
change profile button and extra prep buttons no longer have flickering tooltips when overlapping.