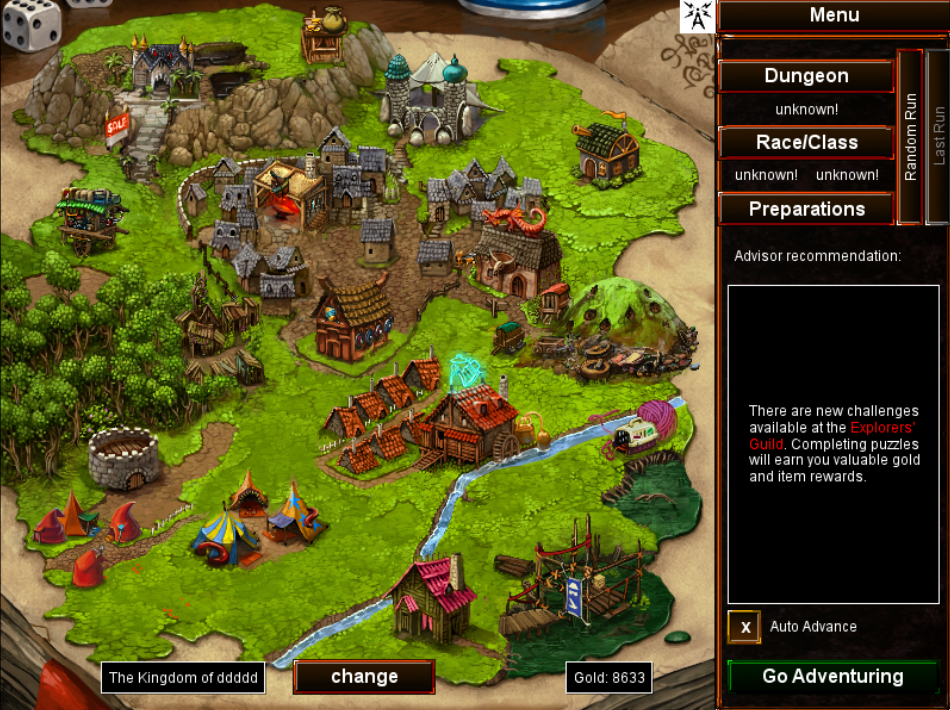 We've got a lovely bit o' news for you today: this is the first week that we're taking the new Kingdom interface out of the back room and presenting it to players directly. Yup, the blog image isn't a concept piece or a WIP, it's a screenshot of what you'll be seeing when you log in and start playing today.
Now, this isn't 100% complete in itself — not by a long shot — but after getting so much of the groundwork sorted, it's really gratifying to post an update that's at least mostly player-ready. Potential bugs and loopholes aside, we hope that players will have fun seeing our old, old, old vision for the Kingdom interface become a reality.
There's still a lot of work to do and a lot of half-completed elements: building interiors still need an overhaul, clarity issues and highlighting will need to be addressed (particularly with character selection) and there's a bunch of other little tweaks and speech bubbles and pointers that need to be added as the graphical environment continues to evolve in the direction we want.
In other areas of the game, there's been a couple of supporting adjustments and additions, but nothing that'll leave your brain splattered across the wall. We're halfway through some progression changes for beginner and intermediate players, which are going to be closely tied in with the new levels of ease and fun that we hope the Kingdom will eventually attain. Cool stuff!
TL;DR? Welcome to our first draft of the new Kingdom environment! We had to rush it a little bit this week but decided that it was well worth the effort to get that stuff out the door right now. Our short, but meaningful, changelog follows:
Fixes:
Tri-sword changed.
Load times for save games optimized further.
Witch tier 3 offers four potions
Vicious token no longer appears as challenge scenario prep
New Item: Gardening Shears
Vicious Token unlock moved to Gaan-Telet
"H" occasionally visits the player in-dungeon after trophy milestones
Frost Root graphic adjusted
Custom petrification graphic shows correctly when gorgon kills non-standard enemies
Double-sized altar graphics included