Greetings diligent Kingdom Administrators!
Some of you are far too diligent. Far, far too diligent… We're getting reports that few puzzle remain unsolved, rainbow borders surround dungeons galore and even Goatpeople are welcome in taverns under your watchful reign(s). This simply will not do! Which is why there's a dedicated group of incensed Desktop Dungeons fans hard at work on a mod for the game to add new challenges, new classes, new dungeons and new puzzles for you.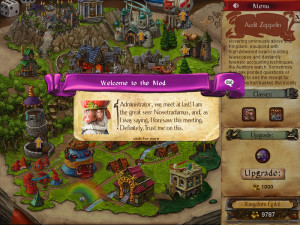 The Extreme Edition has just received an update that adds more to the Eastern regions of your Kingdoms, as well as bringing the mod up to the current version of the game (so no more switching to legacy mode via Steam). All told, this update adds:
4 new classes to play, with 6 new class challenges.
More than 25 new items to discover.
11 new dungeons spread out over 2 quests.
8 new ways monsters will mess with you.
And additional secrets that they didn't tell me about and I haven't found yet…
Seriously, this mod is an amazing project by loving Desktop Dungeons fans that are doing amazing things and sticking true to the game we loved developing. It's a complete blast playing new classes and challenges in a game we otherwise know inside out and we hope you'll enjoy this update as much as we have. The modders have even found ways to add new art to the game, which blows our minds, we didn't think that was possible.
If you've enjoyed Desktop Dungeons and want more of it, download the mod and follow the installation instructions. And please, backup your saves!